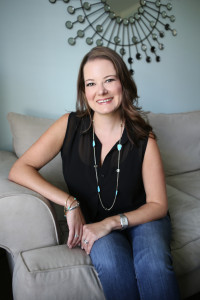 Hilary Yurtin, M.S. is a Licensed Professional Counselor experienced in working with individuals, couples, families, and groups. Hilary graduated Summa Cum Laude in 2010 with a Masters degree in Counseling from Southern Methodist University where she received extensive training in marriage and family therapy, couples counseling, sex therapy, and career counseling.
Hilary has over 10 years of professional experience in the Dallas/ Collin County area, including experience in corporate settings. Observing and experiencing the lack of balance, self-care, and overall satisfaction that can exist as we struggle to occupy ALL of our different roles inspired her to become a helping professional.
Hilary works with her clients to increase positive coping strategies and promote self-care and resiliency. She relates to her clients by looking at the whole picture. Not just the past, but also the situation surrounding them now: home life, work environment, stress factors, and relationships.
The treatment Hilary provides is Cognitive Behavioral and Solution-Focused in nature. She strives to create a warm, yet goal-oriented environment for her clients geared towards creating and maintaining positive change. She understands that change can be difficult. She works collaboratively with her clients to create a program for change that moves at a manageable pace.
Hilary has developed programs and workshops for both individuals and organizations including the administrative staff of a nationally recognized professional sports organization, Fortune 50 Companies, and the staff of the local Non-profit Frisco Family Services.
In her consulting practice, Hilary has facilitated team building workshops. She also works with executives in a corporate setting to set and achieve goals for the improvement of Work/Life Satisfaction and to reduce the stress and guilt that often arise as we struggle to "be everyone and do everything" in our stressful lives.
FAQ's
Hilary meets with many first-time counseling clients in Frisco who have questions and express hesitation or doubt about what therapy is…
No, but you can if you want. Sit straight up, lay on the floor… Be comfortable!
Yes, with a few legal exceptions that we will discuss during your first session.
Absolutely not!! Hilary believes that everyone hits tough spots in life that need a little smoothing out. Releasing those negative experiences, thoughts, and emotions into the open with a trained counselor can be relieving and an amazing process of self-discovery and growth. Think of it like a deep tissue massage for your brain and your soul. Can be a bit painful at times, but overall it's good for you to release the tension.
What's normal? Your personal goals are all that matters. Health will, and should, look different for you than it does for others! A consult with a psychiatrist for medication may be recommended as part of a treatment plan, but not forced.
Very little. That's not the point. You are already as strong and as capable as you need to be, although it may not feel like that right now… It's easy to be blinded by the fog and the excuses of our own stories. You may not have discovered the path to your own strength yet. You may need to tell your story from a different point of view. Working with a counselor can inspire you to uncover your healthiest self and help you feel like You again!